We are only content with the best. That's why we use textiles and fabrics from the world's leading technical fabric suppliers. We have also developed our own fabrics in close collaboration with scientists. We combine these materials, develop our garments and organize them into systems that best suit users' needs. Our quality management system is certified according to IS0 9001.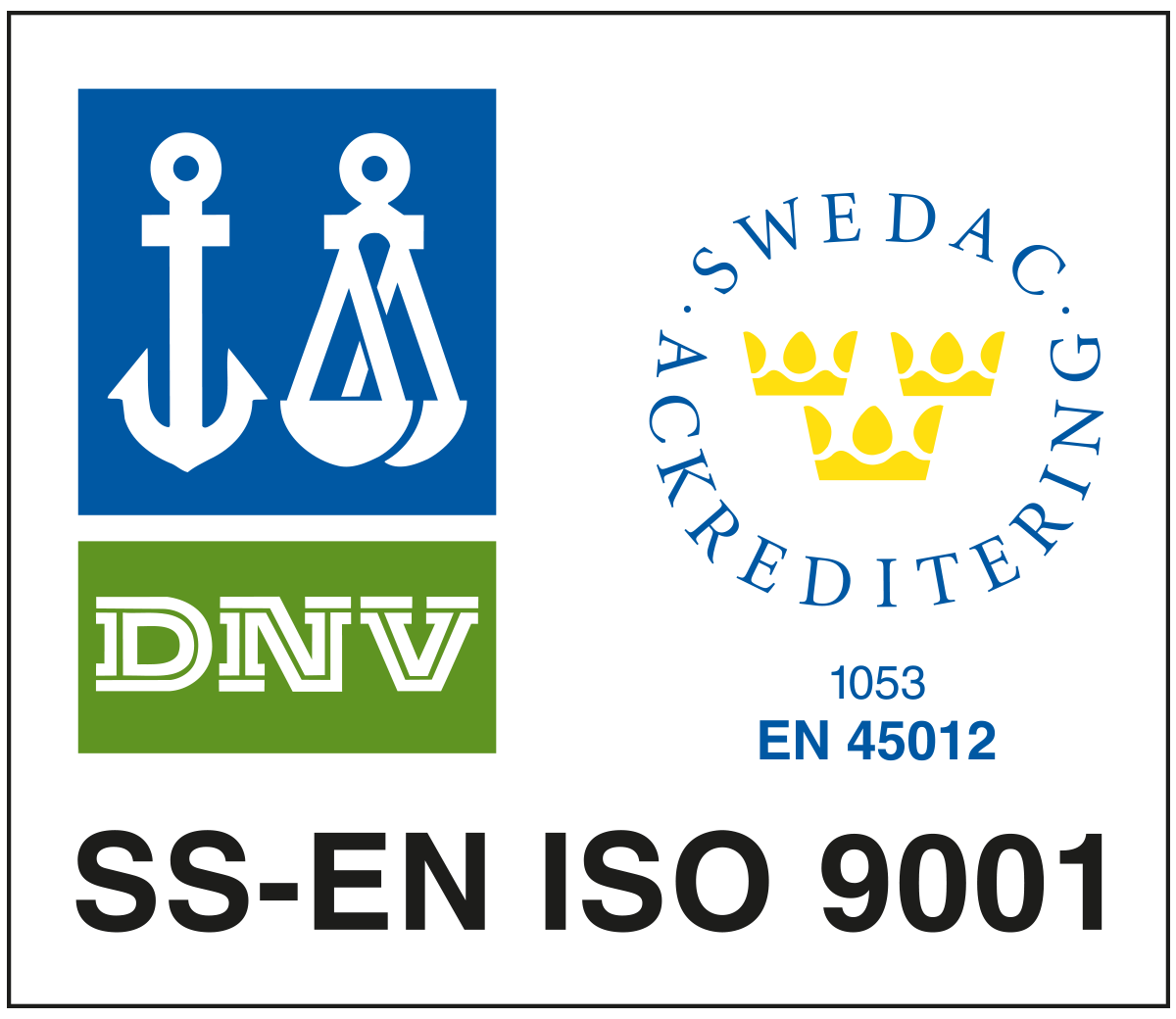 GORE-TEX-material
GORE-TEX is an entire family of materials based on one and the same basic principle: a membrane that contains millions of microscopic small pores per square centimeter, many times smaller than a drop of water, meaning water cannot penetrate. However, the pores are large enough to release moisture molecules (such as moisture vapour from sweat) to pass to the outside. The result is a material that is guaranteed to keep you dry.
2-layer Gore-Tex® fabrics
The membrane is laminated against the outer fabric so that water runs off it immediately. The membrane is protected on the inside by a thin polyester lining, which is also used to make inner pockets.
3-layer Gore-Tex® fabrics
Most of our GORETEX® pants are made of 3-layer fabric consisting of a GORE-TEX® membrane laminated between two fabric layers. This eliminates the need for an inner lining, which can easily tear (for example if you put the pants on while wearing shoes).
Gore-Tex Salina Liner
A flexible and very light membrane. It's waterproof, has good moisture-wicking properties and excellent wind resistance.

Windstopper® products
Completely windproof but with maximum breathability. WINDSTOPPER keeps you warm and comfortable even in the harshest winds and during the most challenging operations, while still allowing maximum mobility. The material is compact and flexible.
Crosstech® fabric
A windproof and waterproof material that protects against liquid-borne contagion and the most common chemicals released during road accidents, such as petrol, battery acid, fire extinguishing foam, hydraulic oil and chlorine. Crosstech® is one of the fabrics used in TMB-Block.
Proprietary fabrics
We develop our own materials in close collaboration with researchers. We then combine the materials, design the clothes and offer them in complete systems that best suit our users' needs.

TWP
An innovative technology in which a windproof and waterproof fabric is combined with unique design solutions. The result is functional clothing that releases condensation and is highly water-repellent. TWP keeps you warm and dry in most weather conditions.

TP-122
An extremely dense poplin in 65% polyester and 35% cotton. The weave, developed by Taiga, has 2-ply threads in both the warp and the weft, and is impregnated against moisture. An exceptionally hardwearing fabric that is highly windproof and water-repellent. Fast drying.

TMB-Block
Protective clothing against liquid-borne contagion from humans and animals and spatter from chlorine, battery acid, petrol, fire extinguishing foam and hydraulic oil. The standard is based on ISO 16604. We have developed the standard further by adding European standard SS-EN 20471 (high visibility), and making the clothing more comfortable.
Other fabrics​
In addition to GORE-TEX and our own fabrics, we also use a number of other materials. Our focus is always on you as a user and the functionality of the garments.

Polartech Thermal Pro Highloft
A fabric with exceptional insulating ability in relation to its weight. Fast drying with high wicking ability.
Cordura
Cordura is a brand name for an exceptionally hardwearing, lightweight polyamide fabric. It is almost twice as strong as polyester. Among other things, Cordura is used to make motorcycle clothing because it offers the same protection as leather but with only half the weight. We use Cordura both for reinforcing wear points and for making whole garments in multilayer clothing systems.
Polyamide
A strong, lightweight fabric. Polyamide is stronger than polyester in relation to its weight. For this reason, it is usually used to make the outer shells of jackets etc.
Polyester
We mainly use polyester for our ambulance clothing. The fabric has exceptional colour resistance and retains colour intensity in garments certified according to SS-EN 20471 (high visibility). Other benefits include high tolerance to many chemicals and extremely low water absorption (when you perspire, for example, the material releases the moisture into the air instead of absorbing it).
Nomex
One of the most effective heat protection materials. Nomex belongs to the Aramid fibre family. It is completely flame-resistant, so does not require flame-retardant impregnation. Nomex is also light and hardwearing. At very high temperatures the material may carbonise, but will never burn, melt or shrink. Clothing that includes Gore-Tex Flameliner is also windproof and waterproof.

Thermolight Plus and Extreme
This fabric is engineered to incorporate plenty of air into the clothing system. Thermolight has hollow fibres, providing excellent insulation and wicking ability.
Lyocell
Lyocell is made from cellulose fibres from fast-growing trees such as eucalyptus and beech. The fiber is processed in a closed cycle where 99% of the biological dissolving agent can be used repeatedly. The cultivation of the tree species is more resource-efficient than cotton thanks to the use of less water for irrigation and fewer pesticides to keep the trees free from harmful insects.
Lyocell is durable and has heat-regulating properties; its texture feels comfortable on the skin and it has good colour-fast properties.
CE standards
Most of our garments are CE labelled to ensure compliance with the special protection that may be relevant. Read more here.